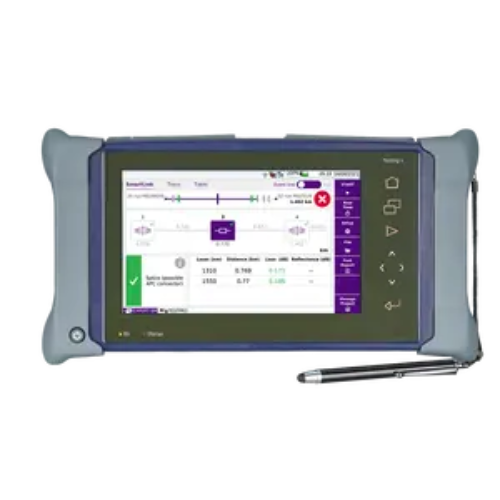 VIAVI T-Berd 4000 OTDR
Original price
$12,999.95
-
Original price
$12,999.95
Viavi T-BERD 4000 OTDR.

Configuration: 
ETB4000HVT Platform with 2 slot module
E40WIFIBLU2 Built in Wi-Fi Bluetooth
E40PMVFL Power meter and VFL
E4138FB65-APC Module B OTDR 1310/1550/Filtered 1650 NM - APC
The T-BERD/MTS-4000 V2 is a small, compact and handheld test platform designed for all phases of the network lifecycle, from the installation to the maintenance of Metro, Core, Access, FTTH, FTTx, HFC, Wireless, 5G, Enterprise and Data Center networks. Modular in design, the T-BERD/MTS-4000 V2 offers engineers, technicians, installers and contractors the highest performance and superior levels of scalability and upgradeability.
Highlights
Easy-to-use solution with intuitive icon-based graphical user interface (GUI) and multi-touch screen requiring minimal training  
Combines multiple function/modules in a compact solution
Essential fiber tools integrated and supported: Visual Fault Locator, Broadband Power Meter, Talkset and Automated Fiber Microscope 
Simplify OTDR trace interpretation with Smart Link Mapper (SLM), clear icon based view of fiber link and dedicated applications for FTTH/PON, FTTx (P2P, Access, HFC), FTTA, Enterprise and Data Center
Flexible connectivity for fast data transfer: USB, Ethernet, WiFi, Bluetooth
Remotely coach and support field techs with Smart Access Anywhere (SAA)
Optimum workflow and operation within the platform or through the cloud with VIAVI StrataSync
Applications
Full network lifecycle: Construction, Activation, Maintenance & Troubleshooting
Essential

 

fiber test: OTDR Testing, FiberComplete™ (automated bi-directional IL/ORL & OTDR), Connector inspection with IEC Pass/Fail Analysis
FTTH:

 

Passive Optical Network (PON)

 

optimized OTDR & selective power meters for E-PON, G-PON, XGS-PON, NG-PON2 networks
Hybrid CWDM/DWDM: combined CWDM or DWDM OTDR and C-OSA test platform
Wireless: singlemode and multimode test for C-RAN, DAS and 5G deployments
Enterprise & Data Center: integrated solution for multi-fiber MPO cable tier-2 certification
Metro Core: long haul OTDR for high speed 10G/40G/100G fiber link qualification 
Key Features
Lightweight platform: only 1.4kg / 3 lbs
9-inch high visibility multi-touch screen with permanent function keys
Dual-modular platform with field-replaceable modules
Workflow management and guidance for error free test
Report Generation – on-board instrument, via PC/laptop (FiberCable SW suite) and StrataSync
Cost-effective, compact and handheld platform
Cross compatibility of modules with T-BERD/MTS-2000 and -5800 test platforms
---
This product is StrataSync-enabled
StrataSync is a hosted, cloud-based solution that provides asset, configuration, and test data management for VIAVI instruments and ensures all instruments have the latest software and options installed.  StrataSync Base supports basic capabilities at no charge.  Additional StrataSync subscription plans are available offering enhanced asset and test data management, workflow, KPI analytics and application programming interfaces (APIs).