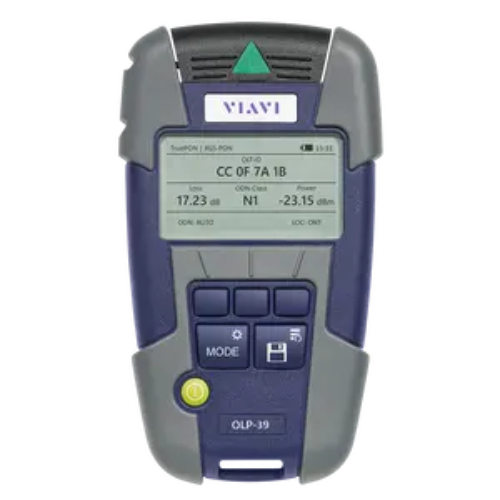 VIAVI OLP-39X TruePON Tester
Original price
$1,695.00
-
Original price
$1,695.00
Viavi OLP-39X; TruePON Tester Terminate Mode GPON and XGS-PON
The OLP-39X has a single-mounted SC adapter providing simultaneous selective power measurement and TruePON PON-ID data analysis of both G-PON (1490 nm) and XGS-PON (1577 nm) wavelengths.
The new OLP-39 TruePON testers from VIAVI Solutions are the latest addition to the popular SmartPocket V2 family of pocket-sized test solutions. Designed for fiber technicians working in the Last-Mile of FTTH deployments, the new OLP-39 is the industry's first wavelength selective Passive Optical Network (PON) power meter which has been enhanced with TruePON data analysis and enables simultaneous measurement of GPON and XGS-PON PON-ID.
TruePON allows the OLP-39 to read the OLT-ID carried within the downstream PON-ID data. This ensures that technicians have the right drop terminal and confirms that the drop fiber is connected back to the correct OLT port. TruePON information is also attached to stored measurement results to provide an audit trail / birth certificate which documents power level(s) and OLT connectivity at time of install.
Key Benefits
Supports co-existence of G & XGS-PON for migration to 10G services
TruePON analysis leverages PON-ID information to ensure more right first-time installations and to reduce fault finding times.
By ensuring correct OLT port connectivity, users will reduce fault escalations, troubleshooting expenses and avoid install abandonments due to borderline installs
Allows technicians to ensure whether the end-to-end optical loss of the PON is within specification before proceeding with an installation.
Confirms when optical loss is out of specification by providing the information to support troubleshooting or to justify a trouble/fault ticket escalation.
the patented ONT detection enables a 1:1 assignment of OLT port and ONT serial number
Key Features
OLP-39 provides the industry's first wavelength-selective power meter with PON-ID capabilities in a compact form factor that can easily fit in a technician's pocket.
TruePON Analysis and In-service Insertion Loss
Detects the OLT-ID for both G-PON and XGS-PON by reading the PON-ID data
Detects ODN class and enables in-service insertion loss measurement.
Extracts specific data carried in the G-PON & XGS-PON PON-ID standardized by ITU-T G.984.3 Amendment 3. and ITU-T G.987.3 Amendment 1
ONT Detection (patent pending)
Identifies the serial number of the ONT to be measured
Identifies the ONT type, ONT-ID and the ONT status
Single test port connection for dual wavelength measurement
Simultaneous power level measurements for both G/E-PON & XGS-PON/10G-EPON services
Storage for over 1000 test results, PC download capability and Bluetooth Low Energy to sync results via Mobile Tech App to StrataSync cloud
Applications
Measuring optical power levels for both G/E-PON and XGS-PON/10G-EPON services
Detecting information on OLT-ID
Detecting information on ONT serial number, ONT-ID, type and status
Multi-service PON deployment and installs
Network Build and Maintenance for FTTH