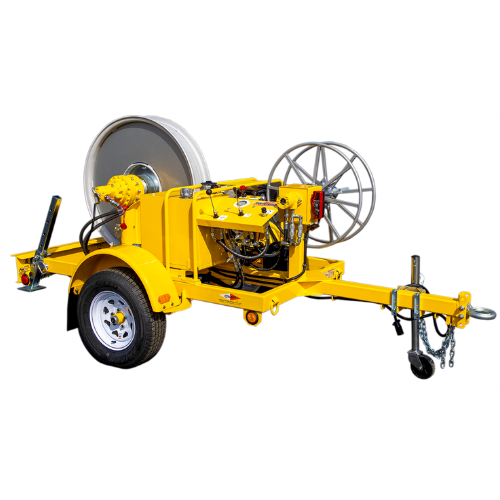 SIDEWINDER 42 INCH CAPSTAN FIBER OPTIC PULLER
Original price
$46,588.00
-
Original price
$46,588.00
The GMP SideWinder Trailer-Mounted Fiber Optic Puller
 

has been designed to exceed the requirements of installing underground telecommunication cables, high-density fiber by employing a 42 in. diameter single capstan to provide a controlled force to the pulling rope or tape.

The single capstan allows the winch to be placed at the midpoint of a section to assist in the pull, thus enabling longer pulls to be achieved.
The Sidewinder's capstan is angled at 30° to be used to figure 8 the cable
Controls are operator-friendly and very simple to use. A spring-centered lever controls the direction of rotation of the capstan, while a detented lever engages the take-drum drive. A control knob is used to limit the rope/cable tension using the panel-mounted tension indicator.
The winch is mounted on a sturdy all-steel fabricated chassis. It is equipped with torsional suspension axles, stabilizing prop legs, a front telescopic jockey wheel, and a tow bar with a Lunette Ring
At 1500 lbs., the unit is easily pulled by a standard pickup truck
The power source is a Commercial grade Honda GX390 gasoline engine
The engine drives the fixed displacement tandem-mounted hydraulic pumps. One pump powers a hydraulic motor through an in-line planetary gearbox to the capstan; while the second pump drives the rope take-up drum through a hydraulic motor. The hydraulic pump is attached to the engine via a bell housing and flexible coupling.
The hydraulic oil tank is fitted with double filtration protection, sight glass, and filler/breather
The rope take-up drum is removable and can be split to enable the removal of the rope. The capstan can be rotated through 90° on a swivel bracket from the inline working position to the transverse transit position when in tow. When the winch is in working mode, the rear props are extended out of the chassis to provide greater stability.
Keywords related to this product include Trailer Mounted Winch, Fiber Optic Puller, Cable Pulling Trailer, Pull & Assist Winch, high density-fiber and Trailer Mounted Fiber Cable Puller
The Electric start SideWinder (P/N 70609) has these extras:
An electric key start GX390 Honda engine along with the choke and throttle is located at the operator's control panel, safely placing all controls away from the moving pulling line.
Quick disconnect hydraulics allows the operator to utilize the SideWinder's output hydraulic output to power a number of options like a hydraulic dewatering pump or a Tornado Fiber Optic Blowing machine.
*NOTE* This item will be shipped via FREIGHT, a freight fee may apply.
Please reach out to us and provide your shipping address before you order this item so we can get you an ETA and shipping cost.