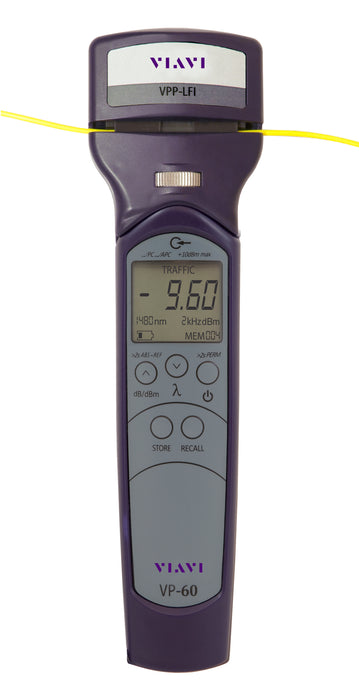 Live Fiber Identifier [FI-60]
Sale
Sale
Original price
$855.00
-
Original price
$855.00
Having poor readings on optical signals when out in the field conducting cable testing? Consider the Live Fiber Identifier [FI-60] for your telecommunications kits. Supply new hires with the tools they need or simply update your tools with the latest technology. This live fiber identifier device is the leading way to detect an optical signal within a fiber network. In addition, technicians are able to detect a signal without causing any unnecessary disruptions. This is essential to maintaining customer satisfaction and speediness of results. Discover more benefits and features of the Live Fiber Identifier [FI-60] sold by Destiny Solutions.
About Live Fiber Identifier [FI-60]
The Live Fiber Identifier [FI-60] is available here at Destiny Solutions. This is a professional tool for active fiber installation, testing, and troubleshooting. Features of Live Fiber Identifier [FI-60] include:
60 live fiber identifier
Integrated optical power meter (OPM)
Brand name Viavi
Includes a universal 1.25 mm adapter and 2.5 mm adapter
Software made by FiberChek2
This device will connect directly to your personal computer to allow for easy access and utilization of readings and measurements. The data results are also stored within the unit for safekeeping. There is a SaveCheck trigger to protect against accidental readings or deleting data.
In addition, the unit features USB download capabilities. This allows your technician to have full utilization of the applicable software for interpreting results from the live fiber identifier.
Buy the Live Fiber Identifier [FI-60] Today
At Destiny Solutions, our Live Fiber Identifier is a top-of-the-line product for the telecommunications industry. We back all of our products with an industry guarantee and ensure you the utmost in customer service. Purchase this Live Fiber Identifier today. Contact us by leaving a message or calling us at (812) 501-5043.