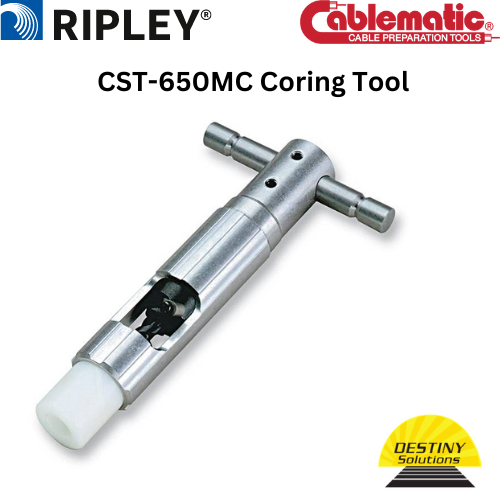 Ripley Cablematic #33900 | CST-650MC | Coring & Strip Tool with Standard "T" Handle + Separate 3/8" Drill Adapter | for 500 kcmil CommScope (Trilogy) MC cables
Original price
$100.88
-
Original price
$100.88
Ripley Cablematic CST-650MC Coring Tool | MFG. Model #33900
Ripley's CST-650MC is specifically designed for CommScope (Trilogy) MC cables. With its double helix coring bit designed for fast and precise coring and stripping of polyethylene disc/air dielectric cable, it make's any installer's job that much easier. It also features manual or drill operation with a standard "T" handle and a built in 3/8" drill adapter. It also features a heat treated, sheath cutting blade that produces a smooth beveled edge and can be replaced without the expense of replacing the entire coring bit.

Features:
Manual or drill operation
Combination stripping and coring tool
Heat treated sheath cutting blade
Spiral-fluted, heat treated steel coring bit
Rugged, durable all metal construction

Standard "T" handle with a separate 3/8" drill adapter
Cable Type: 500
Sleeve Color: White
Length: 8.38 in.
Weight: 1 lb.