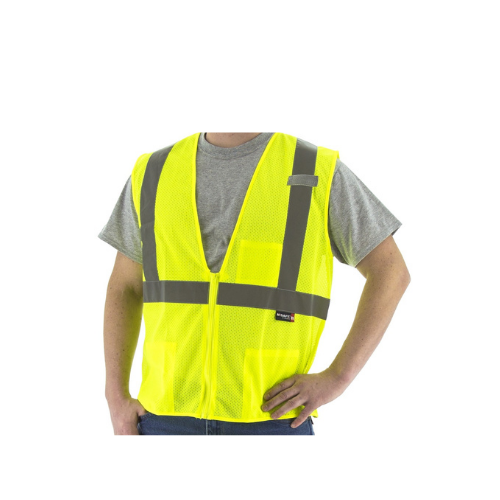 Class II Mesh Safety Vest / Reflective Yellow [75-3201]
Original price
$7.37
-
Original price
$7.37
2-inch Reflective Striping

Brilliant Yellow Coloring

Gray Striping

Three Pockets - Chest and Waist Pockets

Perfect for A

ll Weather Conditions
Upgrade your crew with a new hire kit that contains the Reflective Yellow Class II Mesh Safety Vest. The use of this safety vest ensures everyone has the right OSHA-compliant safety gear on the worksite at any time. Whether you work in telecommunications or cable repair, this is the safety vest for your company. Featuring an easy-to-wear style, simply slip the mesh safety vest on and zip up using the heavy-duty zipper in the front. Perfectly suited for hot weather and humid climates, this is a working vest for all weather conditions.

Notice how well the Reflective Yellow Class II Mesh Safety Vest is made for telecommunications crews. An array of pockets and a mic tab on the front left corner allow for ease of use with equipment. There are three pockets, including one chest pocket and two waist pockets—all of which are inside the vest. Utilize these for storing tech gear, communications devices, and writing implements. Tools will stay safe and secure during all weather conditions. This further protects the wearer against losing tools or supplies while out in the field on a job saving you more money.

Stay safe in this Reflective Yellow Class II Mesh Safety Vest featuring 2-inch reflective striping. This striping is in a gray tone to stand out against the brilliant yellow coloring. This is well suited for any worksite or telecommunications project where visibility is key. Stay protected with this OSHA-compliant Class 2 and ANSI-certified Class 2 vest whenever safety calls. Works well in high traffic zones of between 25 and 50 miles per hour.