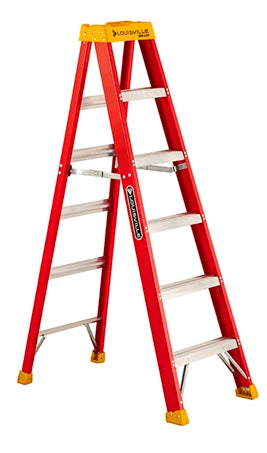 Louisville Ladder [L-3016-06] 6' STEP LADDER
Original price
$115.88
-
Original price
$115.88
Maintain a safe climbing setup for your workers with the use of the 6' STEP LADDER [L-3016-06]. This ladder is made by Louisville Ladder and sold through Destiny Solutions. Note the ladder is tall to be considered a step ladder at six feet in height. That is the ideal height for reaching house eaves and rooftops when doing residential work in telecommunications. Find out more about choosing the 6' STEP LADDER [L-3016-06] for your company's needs.
Features of the 6' STEP LADDER [L-3016-06]
The 6' STEP LADDER [L-3016-06] by Louisville Ladder is painted a bold red to stand out for safety purposes. This signature tone is coupled with a safety-yellow colored step at the top of the ladder. Safety-yellow is repeated with the endcaps on the ladder legs. Five stainless steel stairs run up each side of this two-sided ladder. Other important features of the 6' STEP LADDER [L-3016-06] are:
6 feet tall in height
Extends in a traditional A-frame
Holds up to 300 pounds
Has extra bracing for support with inside hinge
This 6' STEP LADDER [L-3016-06] is available from Destiny Solutions to support your workers safely. Whether you own a telecommunications company or provide repairs to fiber optics and cables, this step ladder is a great addition to your supplies. Toss the ladder in the back of a standard size truck or work van.
Buy 6' STEP LADDER [L-3016-06] Today
At Destiny Solutions, our 6' Step Ladder is a top-of-the-line product for the telecommunications industry. We back all of our products with an industry guarantee and ensure you the utmost in customer service. Purchase a 6' Step Ladder today and receive an economical solution to your crew's working conditions. Contact us by leaving a message or calling us at (812) 501-5043.