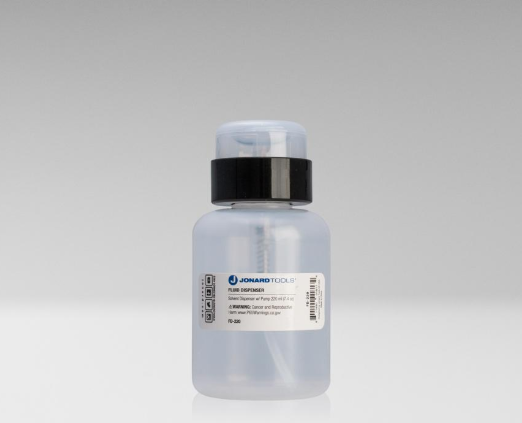 Fluid Dispenser 220 Ml For Fiber Cleaning
Original price
$18.95
-
Original price
$18.95
Jonard FD-220 - Fluid Dispenser for Fiber Cleaning 220ml
Supply your new hire kits for telecommunications repair jobs with FD-220 - Fluid Dispenser for Fiber Cleaning 220 mL FD-220. Available by Destiny Solutions, this cleaning fluid dispenser is manufactured by the well-known tool brand, Jonard Tools. Coming from this well-known manufacturer of tools and tool-related products, you can rest assured this 220 mL bottle and pump for dispensing cleaning fluid for fiber optics and cable repairs will exceed your expectations.
Winning features of this Fluid Dispenser for Fiber Cleaning bottle include:
Contains up to 220 mL of cleaning fluids
Safe to use for storing medical grade 99.99 percent isopropyl alcohol
Lid is designed to be used with all types of cleaning fluids
Spill-proof lid to avoid leaks
Minimize spills with the twist-lock pump mechanism
Single twist closure in pump
Controls amount of dispensed cleaning fluid with each pump
Minimize waste and overuse with a controlled pumping system that benefits telecommunications crews. Include this efficient kit for fluid dispensing of fiber optics cleaning liquids in each of your new hire kits. The spill-proof bottle and lid with a ready-to-use pump will minimize leaks in toolboxes.
Cleaning supplies are ideally suited for maintaining the end-faces of freshly cut fiber optic cables. Ensure optimal contact between fiber optic cables when rejoining split or spliced cable. This kit is also used in the cable installation and repair industry for commercial cable installer companies.
Buy the FD-220 – Fluid Dispenser for Fiber Cleaning 220ml FD-220 Today
At Destiny Solutions in Georgetown, IN, our FD-220 is a top-of-the-line product for the telecommunications industry. We back all of our products with an industry guarantee and ensure you the utmost in customer service. Purchase this FD-220 tool today and receive an economical solution to your crew's cleaning tools. Contact us by leaving a message or calling us at (812) 501-5043.