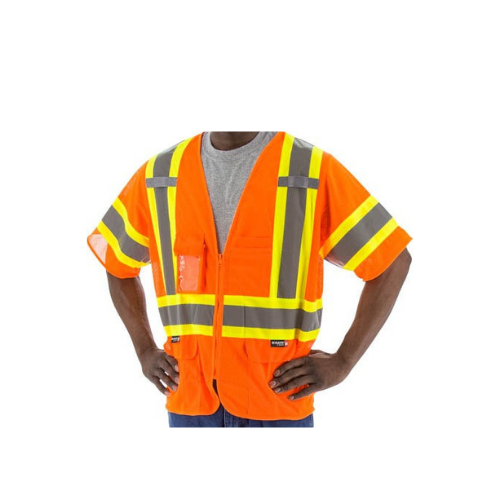 Class III Mesh Safety Vest Reflective Orange [75-3302]
Original price
$14.88
-
Original price
$15.77
ANSI Certified and OSHA Compliant  Class 3 Vest

Brilliant Orange

100% Polyester Fabric

Gray and Yellow Striping

Heavy-duty Front Zipper

 Two Fold-flap Pockets

Woman / Men
Find the perfect solution for your worksite and construction crew needs with the Reflective Orange Class III Mesh Safety Vest. This is the ultimate in safety gear for all workplace safety considerations. This vest is an ANSI certified Class 3 vest and an OSHA compliant Class 3 safety vest.

Performance is a premium with this vest, which works for high traffic areas of up to 50 mph speed limits. Notice the full body fit that goes over the shoulders, unlike most safety vests in this line. It fits both men and women, and with the use of the heavy-duty front zipper, is easily slipped on and off.

Choose the optimal performance of the Reflective Orange Class III Mesh Safety Vest. Created using two-toned reflective tape, the gray and yellow striping runs both vertically and horizontally. The 2-inch reflective stripes increase the visibility tenfold with this vest.
Made using a high-quality 100 percent polyester fabric, this vest is also well suited for warmer weather. Stay cool and reduce worksite exposure at the same time. The brilliant orange coloring works well for seeing the wearer, even when worn in places with near darkness or a lack of visibility. 

Improve your workplace performance with the new Reflective Orange Class III Mesh Safety Vest. This vest has two fold-flap pockets on the front exterior to hold radios, pens, and notebooks. A radio pocket is outfitted on the upper right chest area of the vest. This allows for ease of access to a radio or other devices when on the worksite. Perfect for road crews and construction sites, as well as for personal use.