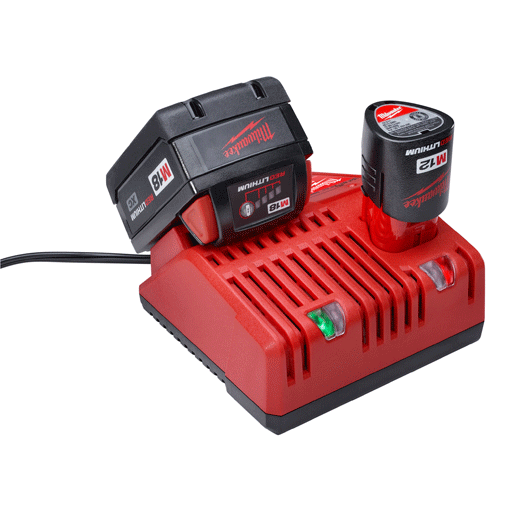 MILWAUKEE® Multi-Voltage Battery Charger
Original price
$44.40
-
Original price
$44.40
MILWAUKEE® Multi-Voltage Battery Charger

Take control of your cordless devices with the use of the MILWAUKEE® Multi-Voltage Battery Charger. This is a power pack ready to support all M18™ and M12™ batteries for MILWAUKEE® cordless tools. Stay prepared and ready to remove a bolt or drill a hole in no time, thanks to the use of this multi-voltage battery charger. The device is perfect for a crew using any of the M12 and M18 MILWAUKEE® cordless power tools. It is a small and compact battery charger in a bright red that matches the brand colors and stands out in a toolbox or on a workbench. Toss it into a new hire kit to provide your workers with the equipment they need from the start.

The MILWAUKEE® Multi-Voltage Battery Charger works by charging batteries sequentially. This helps to minimize the time your workers spend managing charging cycles. Plug the charger into a power outlet, and then plug the battery into the charger dock station. Communication occurs directly between the battery pack and charger. This ensures the optimal temperature settings are reached while charging to avoid overheating a battery pack. The charger also checks for cell voltage throughout the charging process. You are able to see an up-to-date charge status as the battery gets juiced up safely and securely.

Optimize your toolbox with the MILWAUKEE® Multi-Voltage Battery Charger to ensure your cordless power tools are ready to use at maximum power. Fully charge the battery packs for M12 and M18 cordless tools in just 30 minutes. It only takes 60 minutes to fill up extended capacity battery packs for these tools. Everything is capable thanks to the multi-voltage capacity of the MILWAUKEE® Multi-Voltage Battery Charger. Save time and money for your telecommunications crew with the use of this battery pack charging station.