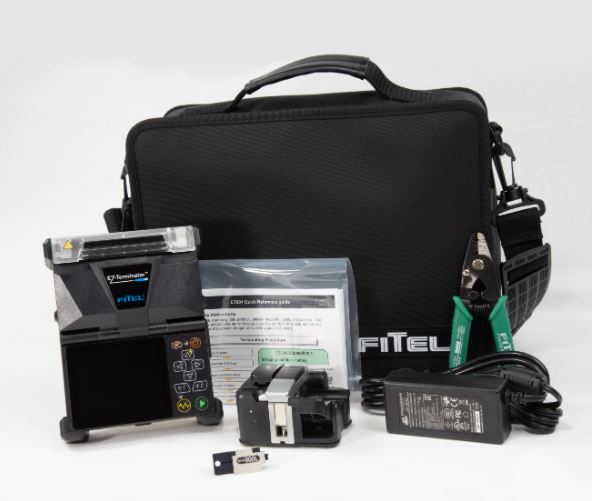 Fitel EZ-Terminator Splicer Kit [EZ-TERM-KIT A]
Original price
$2,490.00
-
Original price
$2,490.00
EZ-TERM-KIT-A for 900 µm Bare Fiber
The EZ-Terminator is a handheld connector termination tool, with a removable v-groove and wide arc chamber, that delivers fast and reliable terminations even under the toughest of situations. Combining portability in a ruggedized body, the EZ-Terminator offers powerful performance and accessibility needed in any MDU (Multi-Dwelling Unit) and SFU (Single Family Unit) installation.
Features and Benefits
 User Friendly: The EZ-Terminator comes with a Field Technician friendly designed wide operation chamber for easy fiber loading and connector assembly.
•Simple Operation: The EZ-Terminator is designed with One-Touch operation and pre-installed programs for error-free SOC fiber termination work.
 Excellent Visibility: Three LED lights illuminate the entire operation chamber with more than 300 Lux. The intense bright light is critical aid for performing connector terminations in low-light environments which are commonly encountered during MDU/ SFU installations.
EZ-Terminator Kit A package includes:
Main Body [ET-001]
1 Soft Carrying Case [SCC-02]
1 AC Adapter [S978A]
1 AC Cable Cord
1 Electrode Sharpener [D5111]
1 Cleaning Brush [VGC-01]
1 [S712S-900-L]
1 Hand - Held Precision Clever [S326A]
1  Fiber Optic Stripper [S211B]
1 Fiber Prep Fluid [FPF-01]
1 Fiber Wipes [FW-01]